We offer dance lessons at our Charlotte, NC studio for everyone from age 2 up to adult.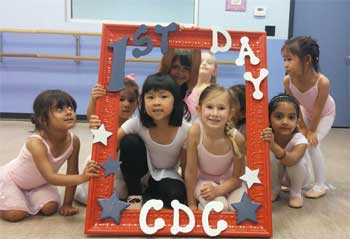 There are endless reasons why dancing is good for you and your children. Whether for fun, perfecting a craft, learning a new skill, exercise, or for expression, dancing has always been a great way to unite body and soul. Once you or your child starts dance lessons with our experienced teachers, you will be hooked on our fun and informative way of teaching. Here at Carolina Dance Capital, we have dance lessons for everyone from age 2 up to adult, and we promise that you'll find dance lessons you'll love!
We have a wide variety of dance lessons that will work with any age and skill level. We can start teaching your children the art of dancing once they turn 2. Children naturally love to move, and with our dance lessons, we can help them enjoy feelings of confidence, fitness, and discipline at a young age. If you are interested in dancing with someone your own age, don't worry! Our family-friendly facility is set up to accommodate dancers of all ages. We are happy to see that many older children, teens, and adults are coming to learn all sorts of skills from our top-notch instructors.
We recognize that not everyone who wants to dance is looking to compete. That's why we have expanded our programs to include instructional dance lessons that are exciting and enjoyable. Our wide variety of dance lessons includes both competitive and recreational programs. We offer classes in ballet, gymnastics, cheer and tumble, cheer gym, jazz, hip hop, tap, and lyrical to anyone in the Charlotte, NC area.
Contact us here at Carolina Dance Capital today for more information on our excellent dance programs.
---
Dance Lessons in Matthews, NC
Dance Lessons in Weddington, NC
Dance Lessons in  Fort Mill, NC