Our competitive and recreational adult dance lessons in Charlotte, NC are a fun way to get moving!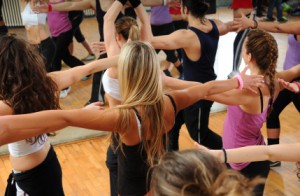 It is never too late in life to learn how to dance, and that goes for every style of dance from ballet dancing to hip hop. At Carolina Dance Capital, we offer adult dance lessons for all ages, so whether you want to get a later start on competitive dance or just want to cross "learn how to dance" off your bucket list, we can accommodate your needs.
Our recreational adult dance lessons are a fun way to get moving! So many of life's challenges can be overcome by staying active. Whether you choose ballet, tap, ballet barre / conditioning, or jazz, you will have fun while improving your dance skills. It doesn't matter if you are just starting out or have years of experience– our adult dance lessons will give you the skills and results you are looking for.
We have a staff of talented and experienced dance instructors with a combined 100 years of dance experience. They are as talented in guiding beginners, as they are seasoned dancers. We believe you will find adult dance lessons a memorable experience, and we know you will enjoy your time at our Charlotte, NC dance studio.
Our state-of-the-art facility has True Injury Prevention floors, making it a safe place for adult dance lessons, even if you are a little clumsy or uncoordinated. If you are unsure what style of dance is best for you, come in and we'll help you by going over your options. As a recreational dancer, you may even decide to try out more than one! You are not locked in to any one style. The idea is to have fun! Come by and see us today, and let's get you dancing!
---
At Carolina Dance Capital, our adult dance lessons are available to students from Charlotte, Matthews, Weddington, Waxhaw, Gastonia, and Pineville, North Carolina, as well as Fort Mill and Rock Hill, South Carolina.