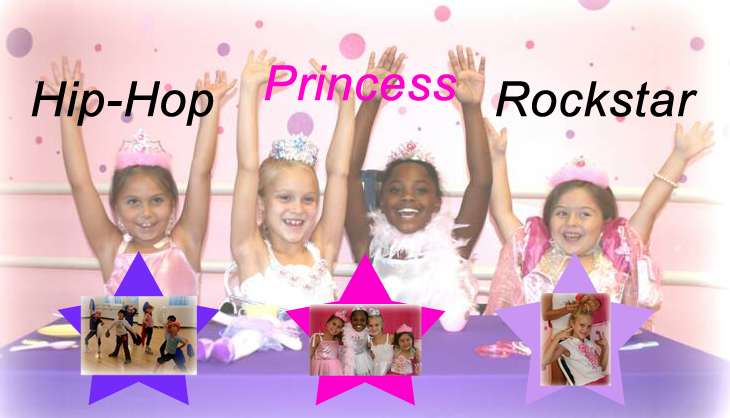 Let "CDC" host your dancer's "BIRTHDAY PARTY"
or any other "SPECIAL OCCASION PARTY" !
Choose between a ✩ Hip-Hop, ✩ Princess and ✩ Rock-Star Party Theme
HIP-HOP PARTY consists of a Hip – Hop style party theme and Hip-Hop dance moves will be taught to the partygoers.
PRINCESS PARTY consists of the guests dressing up in beautiful Princess wear. A Ballet dance to Princess music will be taught to the guests!
ROCK STAR PARTY consists of Rockin' cool hairstyles for the Rockin Kids. A Jazz dance with jamming' music will be taught to the guests!
OUR PARTIES INCLUDE 1 1/2 HOURS OF FUN, INCLUDING 30 MINUTES OF DANCE INSTRUCTION! WE SUPPLY SET UP AND CLEAN UP, INVITATIONS, CUPS, NAPKINS, PLATES, SILVERWARE, TABLECLOTH, BALLOONS, STREAMERS, AND A TREAT BAG FOR EACH CHILD. YOU SUPPLY CAKE, SNACKS AND DRINKS.
COST $175.00 For up to 8 CHILDREN ($10 FOR EACH ADDITIONAL CHILD)
Dress-up costumes for our Princess Party are available at no extra charge. CALL 704-542-4998 TO RESERVE YOUR SPECIAL DAY!* PRE-book your birthday party online by completing the FORM below ! *Please note, we cannot book a party beyond 4 months from the current date.
Carolina Dance Capital Party "PRE-BOOKING FORM SUBMISSION"
Please contact us to lock in your date by making a 50% downpayment by Visa, MC, Discov, cash or check.