We are pleased to offer recreational tap dancing as one of our classes in Charlotte, NC.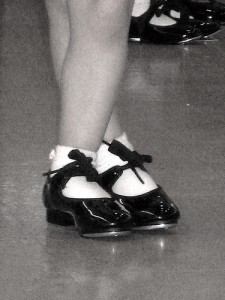 If you grew up watching musicals, you have probably witnessed some of the greatest tap dancers in history as they performed complex routines on stage. Ginger Rogers, Fred Astaire, Shirley Temple, and Gene Kelly are a few of the most famous names in tap dance. The click clack of tap dancing is fun to listen to and is created by making noises with your feet to rhythmical music that is catchy and fun to dance to. Tap dancing moves so quickly that by the end of a number, chances are that you've put your body through an intense workout.
At Carolina Dance Capital in Charlotte, NC, we are pleased to offer recreational tap dancing as one of our classes. Once you've been enchanted with a tap dancing routine, we know the pull of wanting to be able to perform it yourself. If you have felt the urge to take up tap dancing, we have a class for you. We offer classes for all ages and skill levels, from age 2 to adult, so no matter what your experience level is, we can assist you as you embark on your tap dancing adventure. We keep our class sizes intimate in order to provide you with the highest quality of tap dancing instruction available.
No matter what your tap dancing skill level, if you are ready to begin tap dancing or improve the skills you already have, contact us. We would love to have you join our dance family today!
---
At Carolina Dance Capital, our tap dancing classes are available to students from Charlotte, Matthews, Weddington, Waxhaw, Gastonia, and Pineville, North Carolina, as well as Fort Mill and Rock Hill, South Carolina.