We encourage dancers of all ages and levels to join us for ballet dance lessons in Charlotte, NC.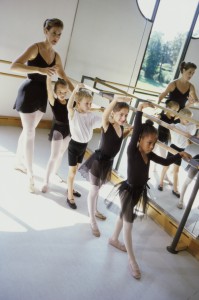 Ballet is arguably the most foundational dance style for every new or developing dancer to focus on.  Because it offers so many important dance techniques and necessities, we encourage dancers of all ages and levels to join us for ballet dance lessons that will give you everything you need to develop into the dancer you want to become.
Balance – An essential part of any dance routine, balance is developed through the slow, intended movements of ballet.
Flexibility – Flexibility is greatly increased through routine ballet dance lessons. Much of the time is focused of this important feature of dance, and students of all ages, skill levels, and ambitions can benefit from continual flexibility instruction.
Strength – Again, because of the body control required, ballet increases muscle-tone and core strength. It allows young dancers to build the muscles they need to move into more aggressive routines.
Control – Young and new dancers develop important steps and techniques they will use throughout their years of dance instruction. Without proper development of these ballet movement skills, they may find it difficult to achieve their recreational or competitive dance goals.
Movement – Ballet also teaches dancers rhythm and control that will be used in every other dance style.
How Ballet Dance Lessons Can Improve Athletic Performance
At Carolina Dance Capital, we have found that our students from the Charlotte, North Carolina area have various reasons why they decide to begin ballet dance lessons at our dance studio. While some just want to dance recreationally, others have dreams of competitive dancing. We have also had several athletes get involved with ballet dance lessons because their coach has recommended ballet for its ability to improve athletic performance.
One way that ballet dance lessons can help athletes is by developing more strength. With regular dance practice, students can tone muscles and boost motor fitness, in addition to strengthening their bones, which can minimize injuries in contact sports. It also burns a ton of calories so that athletes can more easily manage their body weight, which can be critical in certain sports.
Another advantage of ballet dance lessons for athletes is the aerobic benefits. This can help athletes perform better by not getting winded as quickly, so they experience more stamina and endurance than they would without having taken ballet lessons.
There are two other traits that are necessary for any athlete or dancer: coordination and flexibility. Developing these as a dancer through body stretches and muscle memory transfers quite well to other athletic pursuits.
Finally, people tend to forget that all athletes need to have a keen mental aptitude to be successful in sports. It's not all brawn – the brain is important, too! Consider the need to memorize plays, for example. With both dance and other athletic goals, being able to move easily without mental strain slowing you down is a huge advantage.
Whether you have recreational or competitive dance goals, ballet dance lessons are the perfect place to start. If you or your child is already an accomplished dancer, let us help you develop into a better-rounded competitor. Our instructors are experienced in modern ballet and other dance styles, and we are known as one of the top competitive dance studios in the country. Our recognized studio in Charlotte, NC offers everything you need to continue along your dance journey. Join us today, and become part of our dance family!
---
At Carolina Dance Capital, our ballet dance lessons are available to students from Charlotte, Matthews, Weddington, Waxhaw, Gastonia, and Pineville, North Carolina, as well as Fort Mill and Rock Hill, South Carolina.