We offer lyrical dance classes in Charlotte, NC for those who are interested in learning to portray emotions and stories through dance.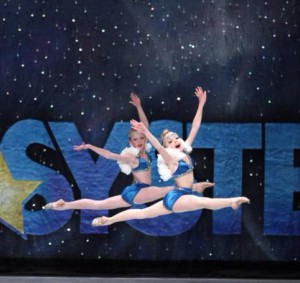 Lyrical dance is unique in that it uses a combination of ballet and jazz movements designed to interpret the lyrics of a song.  This means that there is a greater focus on the movement and facial expressions that best convey the meaning of the words, rather than on being precise in executing the dance steps.  Since lyrical dance is designed to convey emotions, most of the music selected for this type of dance is filled with emotion—such as love songs.  Lyrical dance classes are an excellent way to prepare for a theater production, since many theater productions utilize lyrical dance to portray part of the story.
At Carolina Dance Capital in Charlotte, NC, we offer lyrical dance classes for those who are interested in learning to portray emotions and stories through dance.  Our lyrical dance classes are offered for a variety of ages, beginning with children as young as age 6 and continuing on into classes for adults.  Our intimate class sizes ensure that you will receive quality personalized instruction as you work on sharpening your lyrical dance skills.  We offer classes in the mornings, afternoons and evenings to accommodate any schedule.  Our state-of-the-art facilities include 2-way observation windows and true spring-loaded injury prevention floors in order to ensure the comfort and safety of our dancers.
If you are interested in learning how to express a story through lyrical dance, come in and see us today.  Discover how our fun, family-friendly atmosphere will put you at ease in your dance goals.  We would love to have you become a part of our "dance family" today!
---
At Carolina Dance Capital, our lyrical dance classes are available to students from Charlotte, Matthews, Weddington, Waxhaw, Gastonia, and Pineville, North Carolina, as well as Fort Mill and Rock Hill, South Carolina.