If your child has an interest in dance, consider signing him or her up for one of our ballet dance classes in Charlotte, NC.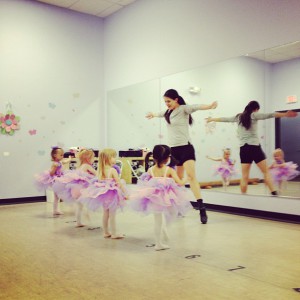 Ballet is the foundation for every dancer, and it is best to start your child in ballet as early as possible. Ballet teaches poise and positioning, even for children as young as two years old. It is an essential part of any dance program, and your child will quickly learn effective dance skills that will lead them into other dance styles. If your child has an interest in dance, consider signing him or her up for one of our ballet dance classes.
At Carolina Dance Capital, ballet dance classes are taught in intimate class sizes (usually no more than 8 students) with experienced and talented instructors. This is to give your child their best start in dance. Small class sizes allow for more specialized instruction and personalized learning. Here at Carolina Dance Capital, we always seek to create a fun and family-friendly environment. We have established a "dance family" where students can come and learn in an uplifting and positive setting. Come for a few dance classes, or stay with us through the years.
Indications Your Toddler is Ready for Ballet Dance Classes
At Carolina Dance Capital, we love children of all ages and offer several different dance class opportunities for them at our Charlotte, North Carolina dance studio. While some students get involved in ballet dance classes because they want to join an elite company someday, often it is just something that starts out to be more for recreational purposes. It might surprise you how often it starts out as mild interest and becomes a career. So, how can you know if your toddler is ready for ballet dance classes? Here are a few indications:
They always have a tutu on. Many little girls are enamored with tutus and ballerina shoes and while not all go on to be famous ballerinas, you can encourage their passion for it by signing them up for ballet dance classes.
They spend more time dancing around the house than they do walking. Some parents pass this off as just the high energy of youth, but it can actually be an indication that they are very musically inclined. While it may not be ballet dance classes, per se, that interest them, they definitely love music and one of our dance classes could be the perfect way for them to put that passion and energy to work.
You are dealing with a high-energy child. Ballet dance classes can be the perfect way to burn off that excess energy in a productive way. You and your child will be happier!
Our ballet dance classes are available for ages 2 through adult. Because it is a foundational dance, competitive dancers should continue in ballet instruction as they move forward in other dance styles. Our studio was voted one of the "Top 50 Dance Studios in the USA" by Dance Spirit Magazine. Conveniently located in Charlotte, NC, we can help your child develop into the competitive or recreational dancer he or she hopes to become. Come and join us for an exciting, educational dance experience!
---
At Carolina Dance Capital, our ballet dance classes are available to students from Charlotte, Matthews, Weddington, Waxhaw, Gastonia, and Pineville, North Carolina, as well as Fort Mill and Rock Hill, South Carolina.