We offer both recreational and competition child dance classes in the Matthews, NC area.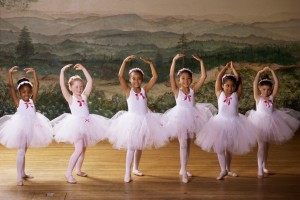 At Carolina Dance Capital, we want your child to be able to reach their dance goals, whatever that may be. We know that cannot happen if they quit because they grew bored or felt they were failing. That is why we take every student's age level and ability into consideration when they are beginning child dance classes and continually throughout their training. We accomplish this through small class sizes, so our student/teacher ratio is low and can provide your child with the personal attention they need to succeed. We offer two types of child dance classes:
Recreational Program – Our recreational child dance classes are available for ages 2 and beyond. They typically meet once per week with a recital at the end of the season, so the kids can show their friends and family all that they have accomplished. In this program, we offer ballet, floor gymnastics, hip hop, lyrical, cheer & tumble, jazz and tap. This program is wonderful for giving your child confidence while learning dance skills.
Competition Program – Our competition child dance classes are geared towards competing with teams, so they grow in a group environment. Your child will develop their skills with competition in mind. We hold try-outs each August, so your child can join a competitive team. In addition, we offer solos, duets, and trios to provide that avenue for those who desire it.
Your child will learn much from our child dance classes, above and beyond dance steps and technique. They'll learn how to work as a team and so much more. Studies show that children who take part in child dance classes have a healthy self-esteem and feeling of self-worth. We want them to feel accomplished, and we make that one of our goals when instructing them. If you have questions, give us a call. Or, since we are just a few minutes from Matthews, NC, drop by and see us!
---
Child Dance Classes in Charlotte, NC
Child Dance Classes in Weddington, NC
Child Dance Classes in Fort Mill, NC