Your child will have a blast at every one of our child dance classes in Charlotte, NC.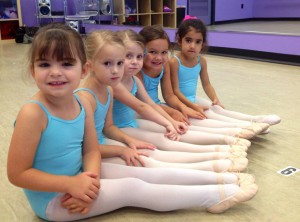 Starting around age two, children begin searching for creative ways to express themselves, assert their independence, and release their enormous amount of energy. They need activities that are visually, mentally, and physically stimulating. That is why we believe child dance classes are so important. For children, every day can be new and exciting. With dance, each step they master is something extraordinary.
Our dance director, Nina, began taking dance classes at the age of three. She found her passion for dance and loves helping children in the Charlotte, NC area develop their own skills. She believes in creating an atmosphere that is always inviting, loving, and accepting. She has worked hard to form a dance company where children of all ages can grow and learn together as part of one "dance family." She wants children to continue to develop their skills with her and every Carolina Dance Capital staff member for many years to come.
Top Reasons to Enroll in Our Child Dance Classes
At Carolina Dance Capital, we believe all children benefit in a myriad of ways from taking child dance classes and that our dance studio is the best option for those in the Charlotte, North Carolina area. We are always willing to show you around and answer your questions, so you can see for yourself how your child could benefit through our classes. Here are the top reasons to enroll your children in our child dance classes.
Improved Behavior– Children possess an amazing amount of energy, and when that is not utilized in proper ways, they can exhibit behavior that makes family time more challenging. When they have burned off the excess energy in our child dance classes, you'll notice improved behavior at home.
Healthy– People of all ages benefit form physical stimulation, and dance is a fun way to be sure they get the physical workout they need to be healthier, both physically and emotionally.
Social Skills– To be a well-adjusted adult who works well with others and builds relationships in social settings, learning social skills early is necessary. Our child dance classes are ideal for learning how to be part of a group, as well as many other skills they'll need in adulthood.
Variety– It can take some experimentation for a child to learn what type of dance most appeals to them. With our wide variety of child dance classes, your child can learn what speaks to them the most by trying one or more at a time.
Your child will have a blast at every one of our child dance classes. They will develop new skills and grow in their love of dance. Many of our students begin dancing very young and stay with us through their high school years. We continue to offer recreational classes, and we welcome students to try out for our competitive dance programs, as well. No matter your child's goals or skill level, we would be happy to have them join us at Carolina Dance Capital.
Contact us today for a full list of all of our child dance classes. We offer a variety of classes in many dance styles for ages two through adult.
---
At Carolina Dance Capital, our child dance classes are available to students from Charlotte, Matthews, Weddington, Waxhaw, Gastonia, and Pineville, North Carolina, as well as Fort Mill and Rock Hill, South Carolina.