Your child will have a blast at every one of our child dance classes in Charlotte, NC.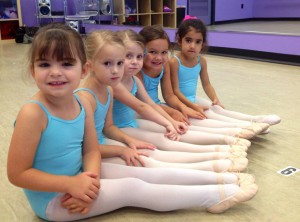 Starting around age two, children begin searching for creative ways to express themselves, assert their independence, and release their enormous amount of energy. They need activities that are visually, mentally, and physically stimulating. That is why we believe child dance classes are so important. For children, every day can be new and exciting. With dance, each step they master is something extraordinary.
Our dance director, Nina, began taking dance classes at the age of three. She found her passion for dance and loves helping children in the Charlotte, NC area develop their own skills. She believes in creating an atmosphere that is always inviting, loving, and accepting. She has worked hard to form a dance company where children of all ages can grow and learn together as part of one "dance family." She wants children to continue to develop their skills with her and every Carolina Dance Capital staff member for many years to come.
Your child will have a blast at every one of our child dance classes. They will develop new skills and grow in their love of dance. Many of our students begin dancing very young and stay with us through their high school years. We continue to offer recreational classes, and we welcome students to try out for our competitive dance programs, as well. No matter your child's goals or skill level, we would be happy to have them join us at Carolina Dance Capital.
Contact us today for a full list of all of our child dance classes. We offer a variety of classes in many dance styles for ages two through adult.
---
Child Dance Classes in Matthews, NC
Child Dance Classes in Weddington, NC
Child Dance Classes in Fort Mill, SC