If you are ready to improve your outlook on life through hip-hop dance classes in Charlotte, NC, contact us.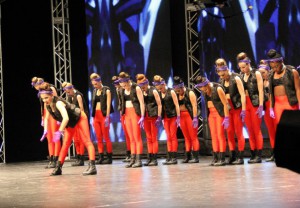 Keeping your body healthy through regular physical activity is important.  Beyond improving physical health, it can also lead to better emotional health and increased confidence.  When you exercise, it releases chemicals called endorphins in your brain.  These endorphins give you a feeling of euphoria, thus improving your mood.  While there are many exercise options available to choose from, hip-hop dance classes are one of the best ways to improve your physical health and brighten your outlook on life.
At Carolina Dance Capital in Charlotte, NC, we are pleased to offer a variety of dance classes that will help keep your body healthy, your mind active, and your emotions stable—including hip-hop dance classes.  Hip-hop dance is a popular form of street dance that uses a mixture of rhythm and coordination.  As a form of exercise, dance has been shown to lessen the fatigue you feel, leading to longer workouts and less noticeable discomfort.  Some specific benefits of hip-hop dance classes include improved muscle tone and strength, better coordination, and improved mental capacity—to name just a few.
If you are ready to improve your outlook on life through hip-hop dance classes, contact us. Hip-hop classes start at age 5. We also offer an all-boys hip-hop class.  In addition, we offer classes for all different ages, beginning with children as young as age 2 and going up to adults.  A typical class size for younger children is 6-8 students, but not more than 12.  This guarantees that each student will receive one-on-one instruction, thereby building confidence.  Our state-of-the-art building is only 4 years old and includes 2-way observation windows, as well as true spring-loaded injury prevention floors.  That way, you can observe the progress of your children and be confident that they will be safe while dancing.  To accommodate every schedule, we offer morning, afternoon and evening classes.  Let us help you get your positive endorphins flowing today!
Hip-hop Dance Classes: FAQs You Need Before Getting Started
The ability to move and groove is something that most all of us are born with! Whether you are a self-taught dancer or are interested in learning a new skill, we here at Carolina Dance Capital would love to see you move and learn with us. We teach many different classes, but one of our most popular classes is our hip-hop dance classes. We get a lot of questions about our hip-hop dance classes, and we wanted to take a moment to address them here:
What age groups are your hip-hop dance classes offered for?
We teach a wide range of individuals in our hip-hop dance classes! We have classes offered for children as young as age 2, and others for people of all ages through to adult classes, so you are sure to find the right class for you or your children (or both!).
How many individuals are in each class?
For most classes, there will be no more than 12 people per class, although we do tend to cap the younger hip-hop dance classes closer to 8-10 in a class.
What should I wear to class?
Wear clothes that are comfortable and breathable. You'll want to wear clothes that are semi-fitted since flowing or loose clothing can be cumbersome and even a tripping hazard.
What is the dance environment like?
We promote an environment of welcoming and warmth here at our studio. We offer plenty of one-on-one attention and strive to help everyone improve.
We hope that these FAQs have been helpful in answering your questions about hip-hop dance classes. If you have other questions that were not covered in this section, please give us a call today.
---
At Carolina Dance Capital, our hip-hop dance classes are available to students from Charlotte, Matthews, Weddington, Waxhaw, Gastonia, and Pineville, North Carolina, as well as Fort Mill and Rock Hill, South Carolina.