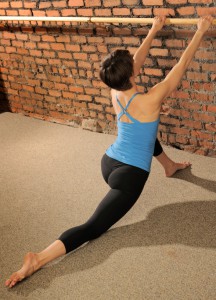 Everyone probably knows that dance training is a workout.  If you know a dancer or have seen dancers in action, it is easy to see the defined muscles, strength, and flexibility that are required to accomplish this art form.  Wouldn't you love to have the toned muscles that a dancer has? Well, you can now without ever taking a dance class.
Meet Ballet Barre: a new development in the world of exercise classes.  Ballet Barre classes focus on conditioning and strengthening your muscles to give you the long and lean look of a dancer.
This dance training class is a mixture of ballet, pilates and conditioning.  No dance experience is required to take a class—in fact, the concept of this workout was developed specifically for non-dancers (though dancers can still take the class and get a great workout).
Spend some time using small hand weights, working your core and legs on a mat on the floor, and (the most unique aspect of the class) performing exercises at the ballet barre.  Many of the exercises focus on isometric movements or small repeated movements that work your muscles to failure.  Stretching and lengthening is also a huge part of the class. People love taking Ballet Barre classes because they are low impact, yet high energy. Experience a fun, fast-paced class that won't hurt your joints, but still give you a great workout.
Are you ready to try this unique dance training class?  Sign up today at Carolina Dance Capital for our Ballet Barre & Conditioning Class.  We know you'll be glad you did!